03/02/2021 – Startup Cities in SEE: Who Is Who In The Emerging Athens Ecosystem
03/02/21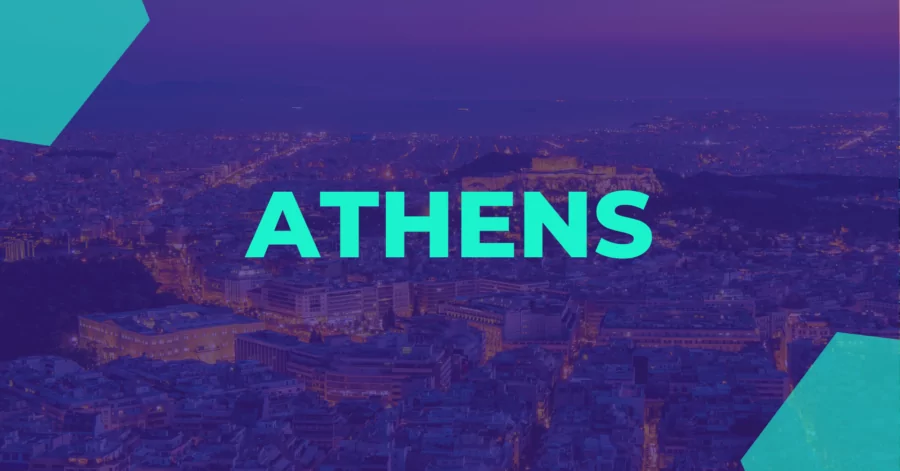 Athens, Greece ~The Greek startup ecosystem is one of the most active in the Southeast Europe (SEE) region, with Athens winning an award for European Capital of Innovation in 2018. Next to emerging local tech ventures, an increasing number of international investors such as Microsoft and AWS are also opening R&D hubs in the country.
In 2020, one of the more detailed reports exploring the Greek startup ecosystem by EIT Digital and Found.ation covered the current state of the community and summarized the trends that were especially important for its future development. The report also highlights Athens as a growing tech and startup ecosystem.
Notable Startups in Athens
Netdata -an infrastructure monitoring platform that helps with the identification of slowdowns and anomalies. To date, Netdata has received investments of $31M and its last $14.2M round was led by Bessemer Venture Partners.
Balena – has developed an IoT fleet management platform, the company has also raised over $31M.
Weengs – a company that has built a smart logistics solution whose pay-as-you-ship service simplifies the delivery chain. Its total funding is reported to be about $12.2M.
Spotawheel is a digital marketplace for second-hand automobiles, last year, the company raised $12.1m.
Plum –  develops personal savings assistant solutions.
Sentio Solutions – develops biomarkers and digital therapeutics.
Welcome Pickups – acts like a personal travel concierge covering a traveler's personalized all in-destination requests from the pickup from the airport, through the welcome upsells products and services like SIM cards or museum tickets.
Accusonus – is a startup innovating in the digital audio technology space. As of  2019, the company has fundraised a total of $3.6m.
Augmenta –  has built an AI-based augmented farming solution. It has attracted a $2.5M seed investment.
Toorbee – develops a B2B travel platform that connects Online Travel Agents with in-destination services providers.
Flexcar –  a leasing tech company that enables customers to hire cars via subscription.
Persado – a Marketing Language Cloud platform, the company has fundraised over $101M since its establishment in 2012.
Workable –  its cloud-based recruitment platform, HQd in Boston, the company has already fundraised more than $89M.
Softomotive –  an RPA company that in 2020 was acquired by Microsoft.
Pollfish –  has built a hybrid service survey platform that carries out surveys online and via mobile applications. Its total amount of funding exceeds $18.7M.
Viva Wallet – enable multi-channel payments through cloud-based systems. Its total backing is over $18m.
Blueground – a real estate looking to improve the relocation experience for business travelers and remote workers. In late 2019, the company closed  $50M in its Series B round.
FerryHopper – a platform that simplifies the purchase of ferry tickets. In 2020, the startup closed a $3.1m Series A funding round
Arrikto – a machine learning platform that simplifies and secures model development by enabling customers to treat data like code. It closed $10M Series A round in late 2020.
RTsafe –  3D printing technology that significantly enhances the safety and accuracy of radiotherapy for cancer and other medical conditions.
Investors
Big Pi Ventures – The Big Pi Ventures is an investment fund targeting the (B2B) segment, focusing on deep-tech and science-based innovation. Founded in 2018, the fund is generally looking into research-based projects and companies and manages €50M.
Marathon VC – targeting SMEs who develop B2B products, the firm has invested its €32M fund in 10 companies and at the end of 2020 announced a second €40M fund.
Metavallon VC – The fund manages €32M and has an affinity targeting the Business to Business (B2B) segment, focusing on the technology. It is a member of the Silicon Valley-based Draper Venture Network that has previously participated in historic investments including Tesla, Skype, and other leading innovators.
Uni.Fund – The fund manages  €27m and is making investments in the broad technology sector, particularly in the R&D and Tech space.
Velocity.Partners VC, which manages €24m, is an acceleration fund with an emphasis on technology-oriented startups in the B2B, SaaS, and IoT industries.
VentureFriends  is investing its second fund – €50m – in the ICT industry. Its targeted sectors include, but are not limited, to Marketplaces and SaaS.
Supporting ecosystem organizations
Endeavor Greece – Endeavor launched its first European office in Greece back in 2012, the network helps local entrepreneurs grow and create jobs.
Crowdpolicy – implements different open innovation initiatives, hackathons, and acceleration programs, currently collaborating with Bulgarian VC Eleven Ventures on the Visa Innovation Program.
StartupGreece – a non-profit, non-governmental organization aiming to boost entrepreneurship in Greece and abroad, focusing on supporting the startup and innovation ecosystem by building a global network.
Found.ation is merging the concepts of a startup hub, a digital transformation accelerator for corporations and a tech education hive.
Think Biz, the first student entrepreneurship organization club in Greece that organizes the Code Biz coding competition.
Athens Center for Entrepreneurship and Innovation (ACEIN) –  part of the Athens University of Economics and Business, it is focused on supporting early-stage teams.
Athens Digital Lab – a smart city research and development lab.
EGG Enter Grow Go – a Eurobank-supported incubator and accelerator.
Microsoft Innovation Center – an incubator and startup events space in Athens.
Coworking spaces
The Cube – located in Athens, this co-working space is still the biggest one in the country.
Impact Hub Athens – a co-working space and an incubator, Impact Hub is part of Impact Hub Global Network, while its focus is on social-entrepreneurship.
Stone Soup –  a space in Athens whose vision is to put emphasis on community cooperation
Romantso – apart from being one of the creative entrepreneurial hubs in Greece, the co-working space is also a cultural center.
Athens, Greece ~The Greek startup ecosystem is one of the most active in the Southeast Europe (SEE) region, with Athens winning an award for European Capital of Innovation in 2018. Next to emerging local tech ventures, an increasing number of internati