20/12/2018 – Athens International Airport launches mobile application for Chinese travelers
20/12/18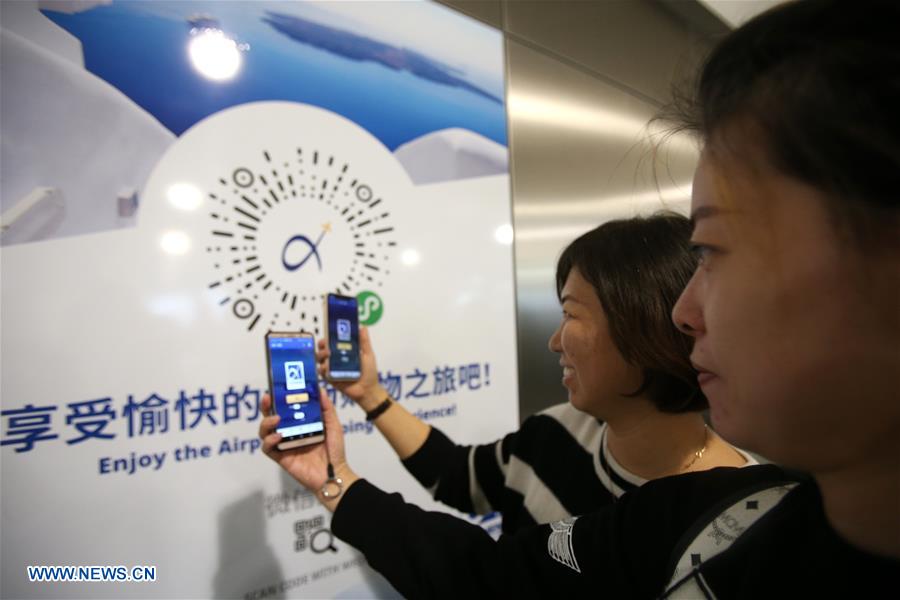 People scan the QR code to get access to the application "AIA – Toorbee WeChat Miniapp" at Athens International Airport in Athens, Greece, on Dec. 19, 2018. Athens International Airport presented on Wednesday here an application for mobile devices especially designed for the Chinese travellers, aiming to further facilitate their stay at the airport and the Greek capital. (Xinhua/Marios Lolos)
ATHENS, Dec. 19 (Xinhua) — Athens International Airport (AIA) presented on Wednesday here an application for mobile devices especially designed for the Chinese travelers, aiming to further facilitate their stay at the airport and the Greek capital.
The application which was developed by Greek start-up Toorbee and can be downloaded free of charge, offers valuable information in Chinese and English languages for all airport services and some useful tips on how to reach the center of Athens or Piraeus port, AIA's representatives explained.
Chinese visitors can use Wechat to scan the QR code on banners placed at AIA to get information about where to eat or shop inside the airport before heading to the city centre.
Pepper the robot, a special digital assistance who greeted Chinese travelers during Wednesday's presentation event, before they boarded an Air China flight to Beijing, will also be available at AIA to guide adults and children to the secrets of the application "AIA – Toorbee WeChat Miniapp".
AIA's initiative to adopt the application was warmly supported by Air China which in autumn 2017 launched a direct flight connecting Beijing to Athens twice a week.
"The Chinese market is very important to Athens International Airport. Today along with Air China we organized an event here at the airport to get the Chinese travelers to know that there is an application especially designed, especially developed for the Chinese traveler so the next time they will come to Athens it will be possible for them to have this app in their Wechat accounts and they will be able to have all kinds of information for the airport services as well as for the city of Athens," Ioanna Papadopoulou, AIA's Director of Communications and Marketing told Xinhua.
"This initiative falls within the framework of all initiatives that we are doing as Athens International Airport in order to have our airport Chinese ready," she added.
AIA had 5.5 million arrivals so far in 2018 and for the first time ever the number of Chinese travelers entered the top 20, Papadopoulou said during the press conference.
AIA attributed the impressive increase of the flow of Chinese travelers to the Greek capital by 78 percent in the first 11 months this year compared to 2017, to a large extent to the start of the direct flights between Athens and Beijing by Air China, she said.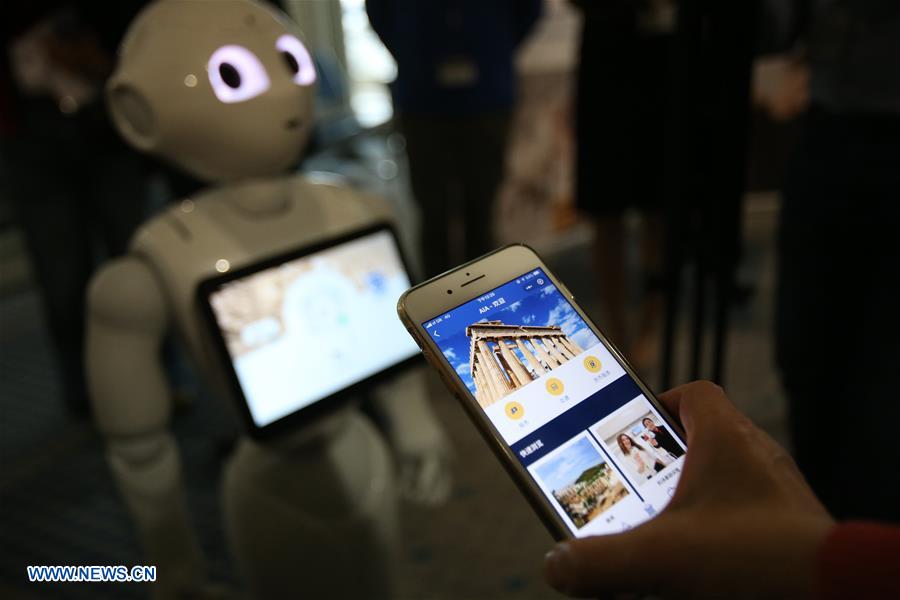 A traveler gets access to the application "AIA – Toorbee WeChat Miniapp" at the Athens International Airport in Athens, Greece, on Dec. 19, 2018. Athens International Airport presented on Wednesday here an application for mobile devices especially designed for the Chinese travelers, aiming to further facilitate their stay at the airport and the Greek capital. (Xinhua/Marios Lolos)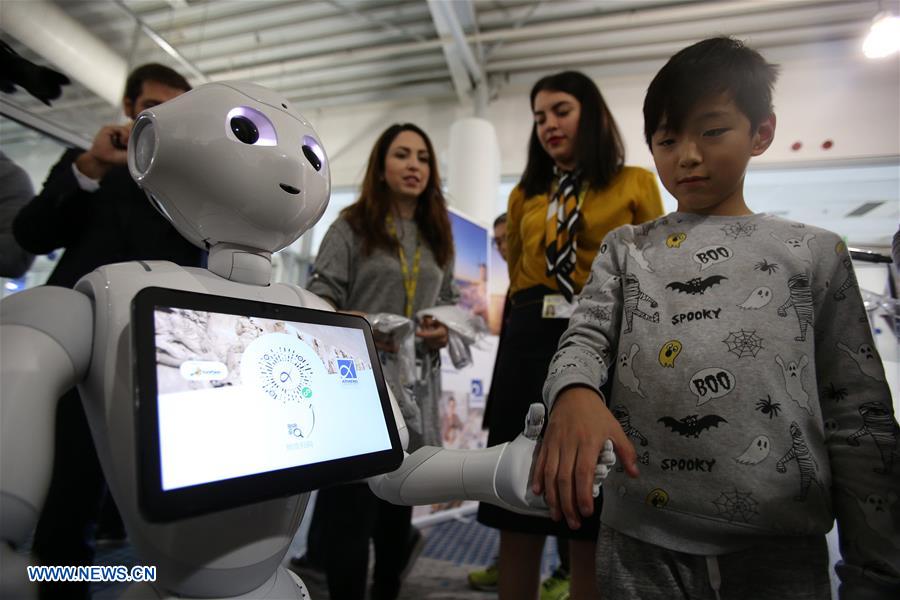 A boy interacts with Pepper the robot, a special digital assistance showing the application "AIA – Toorbee WeChat Miniapp," at Athens International Airport in Athens, Greece, on Dec. 19, 2018. Athens International Airport presented on Wednesday here an application for mobile devices especially designed for the Chinese travellers, aiming to further facilitate their stay at the airport and the Greek capital. (Xinhua/Marios Lolos)
Source: http://www.xinhuanet.com
People scan the QR code to get access to the application "AIA – Toorbee WeChat Miniapp" at Athens International Airport in Athens, Greece, on Dec. 19, 2018. Athens International Airport presented on Wednesday here an application for mobile devices espe