28/12/2018 – Athens Airport Launches New App for Chinese Tourists
28/12/18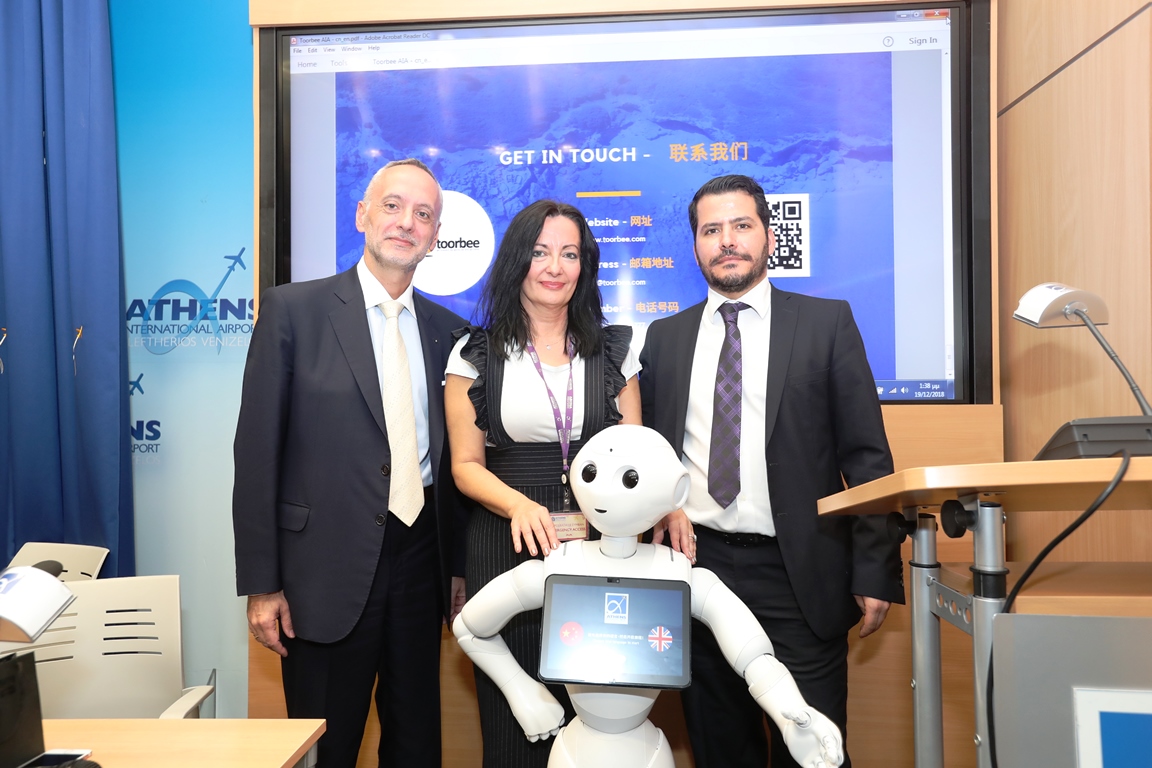 AIA's George Demetriades, Director, IT&T Business Unit; Ioanna Papadopoulou, Director, Communications & Marketing; George Papachristos, CEO, Toorbee; and "Pepper".
Athens International Airport (AIA) recently launched the first mobile app in Greece designed to help Chinese travelers find their way around when they reach the Greek capital.
Created in collaboration with Toorbee, a pioneer Greek startup, for the WeChat platform, the new "AIΑ – Toorbee WeChat Miniapp" offers Chinese travelers a user-friendly digital environment in their own language and provides information about AIA and the city of Athens. WeChat is the main tool for almost every mobile user in China.
"This collaboration demonstrates AIA management's innovative spirit and vision to become one of the first 'China-ready' airports in Europe…Our goal is to expand our cooperation with AIA and more European airports," said Toorbee CEO George Papachristos.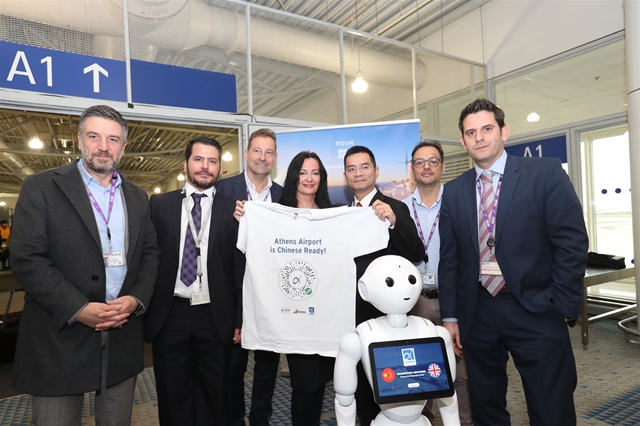 Family photo of AIA, Toorbee, Air China and "Pepper".
By simply scanning a QR code available in various prominent airport areas, Chinese travelers can now access comprehensive information about airport services, products and offers, combined with information about "what happens" in the city of Athens.
"We hope that we can facilitate their airport stay and experience, by offering the possibility of exploring airport services and shopping opportunities, as well as information about the city of Athens," said George Demetriades, AIA, Director, IT&T Business Unit.
With more than 1 billion active users per month, WeChat is the main tool for almost all mobile users in China, while WeChat Miniapp – where AIA's app is available – has more than 400 million monthly active users. Through the new app, the airport aims to make one more important step closer to a market of great importance – and with still a lot of potential – for Europe.
"Comprehensive information in Chinese, for the airport as well as for the city of Athens, is the new, very significant step made by Athens International Airport in its effort to enhance the services offered to Chinese travellers," Fan Heyun, General Manager Air China / Athens Office, said.
Πηγή: https://news.gtp.gr/
Athens airport among the first "China-ready" in Europe.